27 March, 2015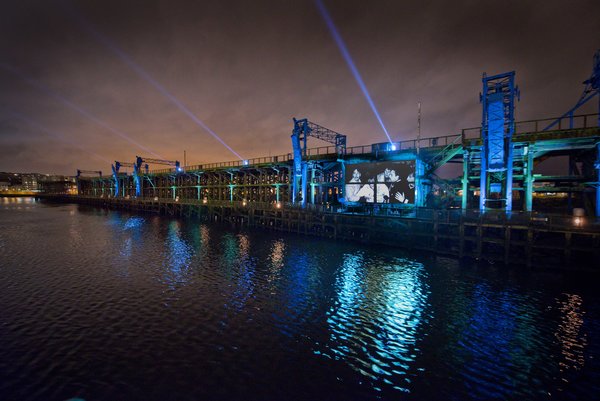 Marking 30 years since the 1984-5 miners' strike, DS30 is a political collage of sound and image. The film was originally commissioned as part of the 'Extraction' themed AV Festival in March 2014 and was set within the monumental structural lines of Dunston Staiths built on the River Tyne in 1893 to ship coal from the Durham coalfields to the world. Featuring footage of mining communities and industry along the River Tyne and of the wider mining community together with footage and sounds from Test Dept's own archive related to the strike, DS30 reflects on the group's nationwide Fuel to Fight Tour in support of the miners, during which they collaborated with local activists and mining communities. These included Kent miner Alan Sutcliffe, who performed as writer and guest vocalist on live and recorded material and the South Wales Striking Miners' Choir, with whom they recorded the album 'Shoulder to Shoulder' to raise money for the Miners' Hardship Fund.
This screening of DS30 is accompanied by a selection of archive material of the group on film and video and will be followed by a Q & A with founding members Graham Cunnington, Angus Farquhar and Paul Jamrozy.
This event also celebrates the release of the book 'Total State Machine', a major historical document and visual representation of Test Dept, published by PC-Press. There will be a launch event following the screening.
Test Dept formed in the decaying docklands of South London in late 1981. The group made raw, visceral music out of re-purposed scrap metal and machinery scavenged from industrial waste-ground and derelict factories; a percussive sound with a political edge performed live against monumental slide and film projections in recently abandoned industrial spaces. Drilling, pounding, grinding, metal bashing – a Constructivist/Futurist-inspired soundtrack to the death throes of industrial Britain.
April 23rd 2015 @18.30.
Book Tickets here (early booking advised to avoid disappointment):
https://www.picturehouses.com/cinema/Ritzy_Picturehouse/film/test-dept-d...
Photo © Colin Davison