29 September, 2022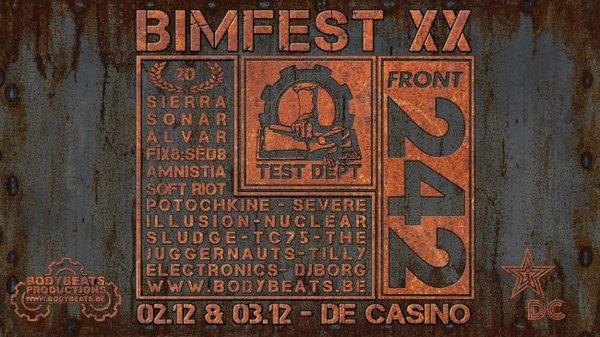 TD BIM Fest
Antwerp
Belgium
Saturday 03/12/22
http://www.bodybeats.be/en/bimfest-xx/?fbclid=IwAR1yc17djrZzhkMsDYVbLnlX...
BIMFEST XX
02 + 03.12.2022
DE CASINO - ST-NIKLAAS - B This year the Belgian non-profit organisation, BODYBEATS PRODUCTIONS, is celebrating the 20th edition of its world renowned, congenial alternative underground music festival; BIMFEST, or Belgian Independent Music Festival to give its full title. This year they have succeeded once again in putting together a varied and enticing international line-up!
As the BIMFEST tradition dictates, we are served a host of established names including Alvar (SE), Fïx8:Sëd8 (D), The Juggernauts (B), Soft Riot (UK) and Severe Illusion (SE), complemented by somewhat newer, perhaps lesser known, but definitely not to be missed, shooting stars! Such as TC75 (D), Nuclear Sludge (SE), Potochkine (FR), Tilly Electronics (D) and Sierra (FR). As well as the smashing electro they bring, those last three acts have also another thing in common, a strong and mesmerizing front woman!
One of the other infamous BIMFEST traditions is bringing back long inactive bands and artists for an exclusive live show at BIMFEST… and look, this year they managed to awaken the legendary Belgian electro-industrial duo SONAR (B) from over 8 years' hibernation, for an exclusive 2022 show at BIMFEST XX!
Of course, the absolute icing on this 20th BIMFEST edition cake is the appearance of Belgium's pride and THE founders of the EBM (Electronic Body Music) genre, FRONT 242 on Friday 02.12. This legendary combo was already in attendance at the 10 year BIMFEST celebration, so obviously they had to be invited again! Recently these gentlemen had their own 40th anniversary celebration, playing two sold out nights in a row at Ancienne Belgique.
But that is not all! On Saturday 03.12. THE English industrial pioneers TEST DEPT are programmed as headliners! Ten years ago, at the specific request and insistence of BIMFEST, this band was revived after a hiatus of more than 20 years! Their live shows have been known as unmissable spectacles for over 40 years now!