31 August, 2017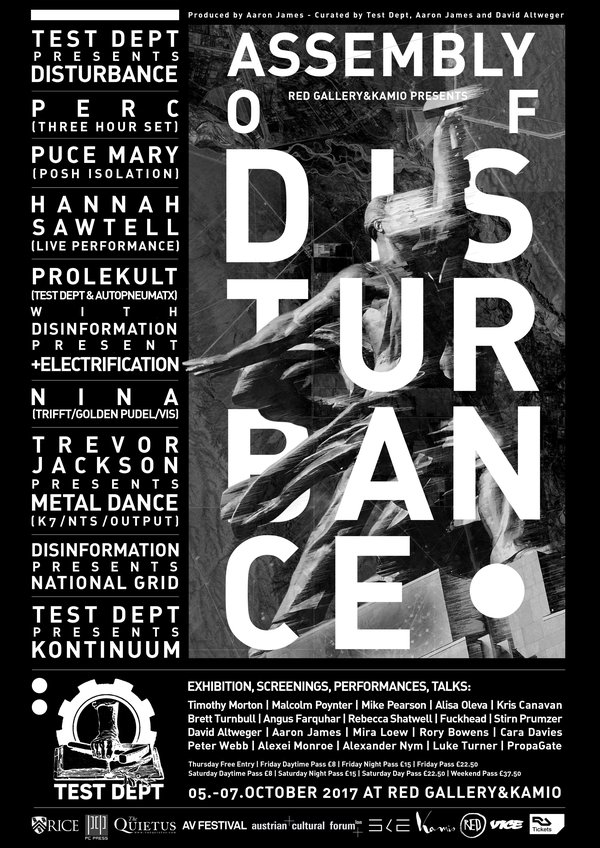 The festival will take place at Red Gallery and Kamio in Shoreditch between Thursday 5th and Saturday 7th October 2017. The two venues will act as a hub for a series of performances, film screenings, AV installation, sound installations, workshops, a symposium and DJs; including work from internationally renowned artist Malcolm Poynter, talks from world-leading philosopher Timothy Morton and site-specific performance pioneer Mike Pearson; performances by Puce Mary, Kris Canavan and Hannah Sawtell; and DJ sets by Perc, Nina and Trevor Jackson.
Assembly of Disturbance also offers exclusivity for audiences to see Test Dept perform the first live iteration of material from their new album Disturbance. It also features a rare dissonant sound clash in which Graham Cunnington and Paul Jamrozy invoke a Kontinuum through early industrial sounds into a dystopian soundscape of experimental electronic rhythms, dubbed out beats and driven bass and +Electrification - a tenacious collaboration between Prolekult (Test Dept and autoPneaumatx) with Disinformation, which electronically mixes kinetic sound and machine sculpture to produce an intense battery of audiovisual percussive performance.
Alongside the festival, Test Dept, Aaron James and David Altweger present the exhibition Culture is Not a Luxury! which unveils manifestos, documents and artworks traced from the group's inception in an 80's landscape of industrial rationalisation, via their networks and travels in Western Europe and behind the Iron Curtain. The exhibition creates a unique journey through Test Dept's archival materials, offering personal insights into the group and the cultural and political activists they have collaborated with, whilst mapping the rise of neo-liberal free market capitalism in a precarious world disorder on the precipice of conflict, economic and ecological disaster.
Tickets:
Three day festival pass: £37.50.
Friday/Saturday all-day tickets: £22.50
Group three day pass (4 people, arrive together): £112.50
Friday/Saturday day only (Red Gallery): £8
Friday/Saturday evening only (Kamio): £15
Plus booking fee
Tickets available here:
https://www.residentadvisor.net/events/1007338
Full Programme here:
https://issuu.com/testdept/docs/aod_programme_pages
Confirmed artists are:
Test Dept Presents Disturbance (live) [UK] — world premiere
Perc (DJ) [UK]
Puce Mary (live) [DEN]
Hannah Sawtell (live) [UK]
Disinformation Presents National Grid (live) [UK]
Prolekult (Test Dept + autoPneumatx) with Disinformation Present +Electrification (live) [UK] — world premiere
Nina (DJ) [DE]
Trevor Jackson Presents Metal Dance (DJ) [UK]
Test Dept Presents Kontinuum (DJ) [UK] — world premiere
Timothy Morton Presents Industrialism as Hyperobject¬¬ [USA/UK] — world premiere
Test Dept Present DS30 [UK]
Fuckhead [AUT]
Stirn Prumzer, Fuckhead and Sagberg Presents From Linz To London: The Ride of the Apocalypse [AUT] — world premiere
Malcolm Poynter [UK/AUT]
Kris Canavan Presents Yes, It's Fucking Political [NIR]
Mira Loew [AUT/UK]
Alisa Oleva Presents Please Hold [RUS] — world premiere
Tam Dean Burn [SCO]
Test Dept Present Unprecedented Campaign [UK]
Propagate [CAT/UK]
PK Fiskulturnik Presents Revolution Yoga [CRO]
Angus Farquhar [UK]
Mike Pearson [UK]
Brett Turnbull [ZWE/UK]
Timothy Morton [USA/UK]
Rebecca Shatwell [UK]
Sagberg [AUT/UK]
Aaron James [UK]
Peter Webb & Alexei Monroe [UK]
Alexander Nym [DE]
Cara Davies [UK]
Luke Turner [UK]
Heike Roms [DE]
Paul Clarke [ENG]
PARTNERS:
Red Gallery [UK]
Kamio [UK]
Vice [UK]
AV Festival [UK]
SKE [AUT]
Rice University [USA]
One Little Indian [UK]
Austrian Cultural Forum [AUT]
NVA [UK]
Institute of Sonic Art [UK]
Sound Practice Research [UK]
Red Gallery
http://www.redgallerylondon.com/
Kamio
http://www.iamkam.io/
Red Gallery (and Kamio) has collaborated with a wide array of artists, art collectives and organisations including Bo Ningen, East End Film Festival, i-D magazine, Kingston College School of Art & Design and Veterans for Peace.
MORE INFORMATION
For further information, quotes, interviews and press list please contact Aaron James via 07787893369 or aarondjames@hotmail.com
Twitter: @Test_Dept #DisturbanceLDN
Facebook: fb.com/TestDept.HQ