8 October, 2015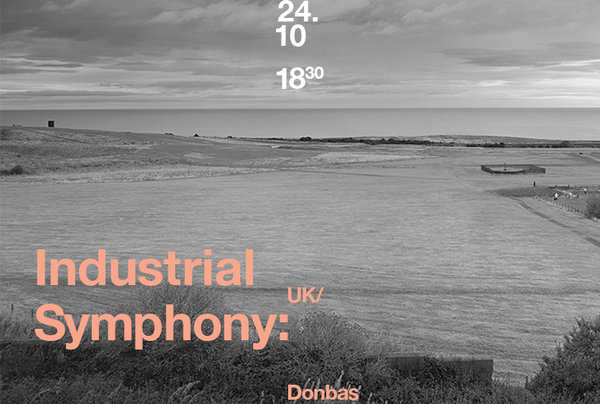 On Saturday 24 October the pioneering British industrial group Test Dept will visit Ukraine for the first time within the framework of Industrial Symphony: UK / Donbas
Industrial Symphony: UK / Donbas is a project of IZOLYATSIA foundation and AV Festival, the UK based international Festival of visual art, music and film. This collaboration is possible thanks to the support of the British Council in Ukraine.
Industrial Symphony: UK / Donbas is dedicated to the synergy and relationship between art and the post-industrial context in modern society. It investigates the role of artists working with an industrial aesthetic in advanced political culture.
This event includes the Ukrainian premiere of Test Dept's new sound film DS30, commissioned by AV Festival to mark the 30th anniversary of the 1984-85 UK miners' strike. Shown alongside the films are images by Ukrainian photographer Valeriy Miloserov of mining communities and striking miners of the Donbas.
The screening will be followed by a discussion with the artists and Ukrainian historian Anton Lyagusha, chaired by Rebecca Shatwell, Director of AV Festival.
Industrial Symphony: UK / Donbas program:
Saturday 24 October 2015
18:30: Valeriy Miloserov slideshow
19:00: Test Dept Film Screening
20:00: Q&A session with Test Dept, photographer Valeriy Miloserdov and Ukrainian historian Anton Lyagusha. Chaired by Rebecca Shatwell, Director of AV Festival
21:00: Test Dept DJs and live visuals
Admission Free
Test Dept were leading figures in British underground culture of the 1980s and 1990s.
The group was inspired by the artistic avant-garde of the first decade of the Russian revolution. In particular their technique of using found sound was influenced by the first Ukrainian sound film, Dziga Vertov's Enthusiasm (Symphony of the Donbas).
The group made raw, visceral music out of scrap metal and machinery from industrial wasteland and derelict factories. Over 15 years they released 14 albums and toured internationally across Poland, Hungary, Czechoslovakia, US and Canada. A year ago they re-emerged to engage with the current cultural and political climate, exploring new ways of expression and digitally working with their archive. This is their first appearance in Ukraine.
Event Poster Photo John Davies
http://amber-online.com
AV Festival
AV Festival is a leading international Festival of contemporary art, film and music, based in Newcastle upon Tyne in the UK. A biennial event, the Festival is thematically curated to engage audiences with current ideas across contemporary artistic practice, politics and society. The last edition of the Festival took place in March 2014 and attracted over 80,000 visits to its programme of 12 exhibitions, 40 film screenings, 10 concerts and 10 new commissions. The next edition of the Festival takes place from 27 February – 27 March 2016.
British Council Ukraine
The British Council is the United Kingdom's international organisation for educational opportunities and cultural relations. We build mutually beneficial relationships between people in the UK and Ukraine and increase appreciation of the UK's creative ideas and achievements in Ukraine. We strengthen ties between Ukraine and the United Kingdom in the Arts, English, Education and Society.
The British Council's Canny Creatives initiative is a new exchange programme for UK and Ukrainian cultural professionals seeking to establish links between the two countries and enhance the development of their own organisations. In 2015, UK participants will come from the Northeast of England and Newcastle, one of Britain's most exciting cultural hubs. The programme is open to cultural and arts organisations all over Ukraine.
IZOLYATSIA
IZOLYATSIA is a non-governmental arts foundation founded in 2010 on the territory of a former insulation materials factory in Donetsk, Ukraine. The name reflects the foundation's mission: to preserve the industrial heritage whilst simultaneously engaging with alternative programmes of social and cultural development. IZOLYATSIA is a multidisciplinary cultural centre with three strands of activity: site-specific art projects to nurture local communities, educational programmes and the development of creative industries.
In June, 2014, the IZOLYATSIA complex was seized by mercenaries of the self-proclaimed «Donetsk People's Republic». After evacuating its team and salvaging some of the art works, the foundation continues its mission in Kyiv.
Within the last year IZOLYATSIA conducted more than 80 educational initiatives and art projects. These include ZMINA, a series of educational and creative initiatives in the Anti-terrorist operation zone in Eastern Ukraine, international residency Architecture Ukraine (Mariupol-Kyiv), the exhibition Culture and Conflict: IZOLYATSIA in Exile held at the Palais de Tokyo (Paris), in DOX (Prague) and in terms of festival Friedensfest (Augsburg) and #onvacation project at La Biennale di Venezia (Venice).
http://izolyatsia.org/en/project/industrial-symphony/industrial-symphony/