23 January, 2021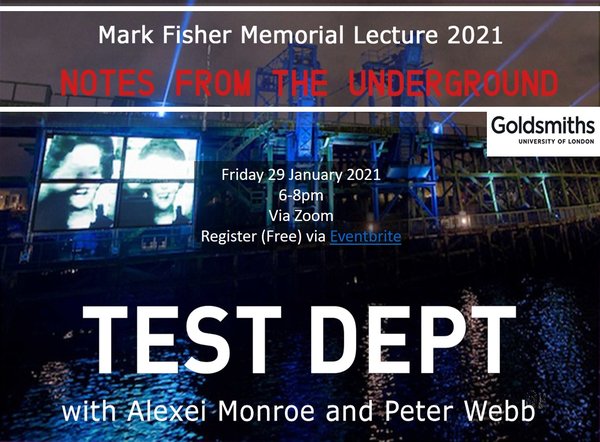 NOTES FROM THE UNDERGROUND
The Mark Fisher Memorial Lecture 2021 with Test Dept
Fri, January 29, 2021
6:00 PM – 8:00 PM GMT
Free Online Event
Register: https://tinyurl.com/y6rf7svz
Mark Fisher, also known under his blogging alias k-punk, was a British writer, critic, cultural theorist, philosopher and teacher based in the Department of Visual Cultures at Goldsmiths, University of London. He was noted for his writing on radical politics, music and popular culture, and was probably best known for the success of his book 'Capitalist Realism' and for his K-Punk blog.
The Mark Fisher Memorial Lecture 2021 with Test Dept
by Department of Visual Cultures, Goldsmiths, University of London
This year's event titled 'Notes From The Underground' features the collective Test Dept with cultural critics Alexei Monroe and Peter Webb.
"There is something very timely about the return of Test Dept … [they] have arrived just in time for the deep crisis of neoliberalism in the UK"
Mark Fisher, 2015.
When he visited Test Dept's DS30 installation in Newcastle, Mark Fisher found much to inspire him and met with the group. In a subsequent article he described their work as an example of radical 'popular modernism' which could still be highly relevant in the present day. Inspired by this, the group have worked with Alexei Monroe and Peter Webb to explore their legacy and its relevance to now.
Fisher described the documentation of their work in the book Total State Machine (2015) as an 'invaluable archive, an inventory of strategies, gestures and techniques'.
This two-part event will feature a new film work exploring Test Dept's archive with a commentary by Alexei Monroe and Paul Jamrozy exploring their legacy through the lens of some of Fisher's key concepts. This will be followed by conversation and Q&A facilitated by Peter Webb.
Test Dept worked intensively in and around Goldsmiths and the local area in the 1980s. The film and the conversation that follows will explore a series of key themes and questions, relating Test Dept's history and current work to the multiple political, social and cultural challenges of 2021.
Can popular modernism still have an effect in the 21st Century, as Fisher believed it could? What lessons are there for today in the way that Test Dept operated in harsh environmental, economic and political conditions? How did Test Dept create its artistic "fuel to fight" from ruinous conditions and spaces and is it possible to imagine something like this in our own increasingly ruinous political and economic conditions?