2 April, 2019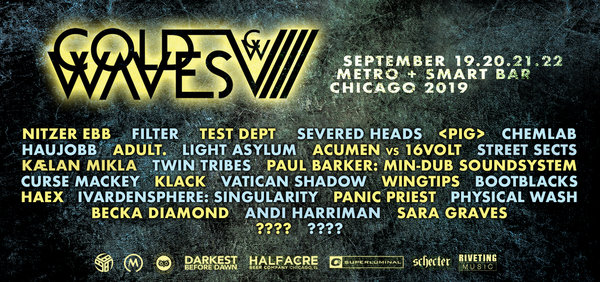 Test Dept will be playing at Coldwaves VIII in Chicago this coming September.
Individual day line-ups will be announced shortly.
Here are the details so far:
COLD WAVES VIII:
NITZER EBB, FILTER, TEST DEPT, SEVERED HEADS, , CHEMLAB, HAUJOBB, ADULT., LIGHT ASYLUM, ACUMEN VS 16VOLT, STREET SECTS, KÆLAN MIKLA, TWIN TRIBES, PAUL BARKER'S MIN-DUB SOUNDSYSTEM, VATICAN SHADOW, CURSE MACKEY, HAEX, KLACK, WINGTIPS, BOOTBLACKS, IVARDENSPHERE: SINGULARITY, PANIC PRIEST, PHYSICAL WASH, BECKA DIAMOND, ANDI HARRIMAN, SARA GRAVES, ????????
The event takes place September 19 - 22 at Metro and Smart Bar in Chicago.
LIMITED Discount 4-Day passes will go on sale Tuesday April 2 at 10AM CST via www.metrochicago.com.
DAILY LINEUPS and details will be announced Thursday April 4 at 10AM CST.
All single day GA and limited VIP tickets will go on sale Friday April 5 at 10AM CST via www.metrochicago.com and www.coldwaves.net.
A portion of the proceeds to benefit Darkest Before Dawn (www.db4d.net).