2 June, 2015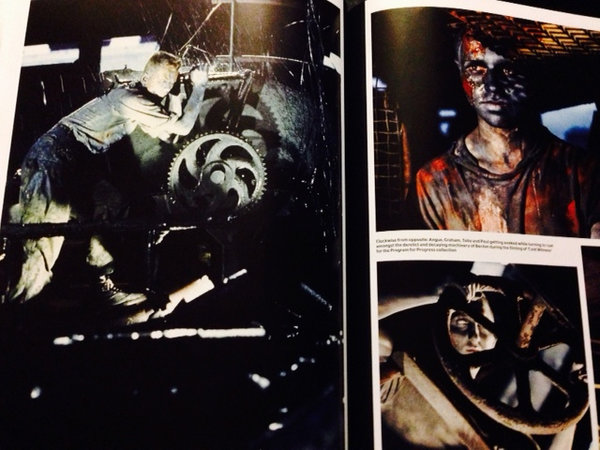 Test Dept head for the Industrial Heartlands of Britain
They will present the DS30 film and rare footage and video from the TD Archive, alongside the Total State Machine Book Launch.
The programme including screenings, special guest speakers for the Q & A, the Total State Machine book launch and DJ events will vary at each venue.
see link below for details.
http://www.testdeptds30.co.uk/
DS30 - 'It's one of the most emotionally draining and inspiring pieces of political art or music I've ever witnessed' (The Quietus).
Total State Machine - 'Its' passion, seriousness, livid creativity - is one of the best books on the 1980s to date'. S.S.Sandhu.(Sight and Sound)
TD Tour Itinerary
Tue 9 June, Sheffield Doc/Fest
Wed 10 June, HOME, Manchester
Fri 12 June, Hyde Park Picture House, Leeds
Sat 13 June, Colchester First Site/Waiting Room (PC-Press Event)
Wed 17 June, Bluecoat, Liverpool
Thu 18 June, Tyneside Cinema, Newcastle
Fri 19 June, GFT and CCA, Glasgow
Thu 9 July, Durham Miners' Gala, Miners' Hall
Thursday 13 July, Rough Trade East London (PC-Press Event)
DS30 Events
Sheffield Documentary Film Festival, Odeon Screen 8, Arundel Gate, Sheffield. S1 1DL.
https://sheffdocfest.com.
DS30 Screening plus Q&A, (20:45–22:25),Tickets: £8.10 / £5.90
Special Guests - Dr Katie Shaw (Author Mining the Meaning, Contemporary Literature - Leeds Beckett University), Martine Thoquenne (Media - Sheffield Hallam University), Chris Peace (Orgreave Truth and Justice Campaign)
https://www.facebook.com/events/410623009122730/
Manchester, HOME, 2 Tony Wilson Place, Manchester, M15 4FN.
DS30 Screening plus Q&A (20.30-22:00) Tickets: £7.50 / £5.50
Special Guests - TBC
https://www.facebook.com/events/468036796705832/
Leeds, The Hyde Park Picture House, 73 Brudenell Road, LS6 1JD Leeds.
DS30 Screening plus Q&A, (19:00-22:00) Tickets: £8 / £6
Special Guests - Dr Katie Shaw (Author Mining the Meaning, Contemporary Literature - Leeds Beckett University), Simon Popple (Media and Communications - Leeds University)
https://www.facebook.com/events/1603134886591174/
Colchester, Essex. Firstsite,
DS30 Screening plus Q&A
http://www.firstsite.uk.net/
Followed by Book launch party and DJ Event at the Waiting Room, The street with no name ((Off Queen St) C01 2PQ - http://st-botolphs.org/
Special Guests -
https://www.facebook.com/events/695456000563749/
Liverpool, The Bluecoat, School Lane, Liverpool, L1 3BX.
DS30 Screening plus Q&A, (19:00–20.30), Tickets: £6 / £4, Test Dept Book Launch and DJs, (20.30–22:00), Free Admission.
www.thebluecoat.org.uk
Special Guests - Daisy Campbell, Roger Hill (Radio Merseyside)
https://www.facebook.com/events/811329482285804/
Newcastle, Tyneside Cinema, 10 Pilgrim Street, Newcastle upon Tyne, NE1 6QG.
DS30 Screening plus Q&A, (18.45-20.20) Tickets: £9 / £7.50 / Test Dept DJs in Tyneside Bar Café, (21:00–late), Free Admission.
Special Guests - David Temple (Author The Big Meeting: A History of the Durham Miners Gala) and Bill Lancaster (historian and ex-director of the Centre for Northern Studies).
https://www.facebook.com/events/1599934033557628/
Glasgow, GFT, Glasgow: DS30 Screening plus Q&A, (18:00-19:30), Tickets: £8.50 / £7.00, Total State Machine Book Launch, Aye Aye Books, CCA, Sauchiehall St, Glasgow: (20.30-21.30), Free Admission, Test Dept DJs + Twitch (Optimo) at CCA Courtyard Cafe, CCA, Glasgow: (21.30-late) Free Admission
https://www.facebook.com/events/557150321094868/