4 May, 2015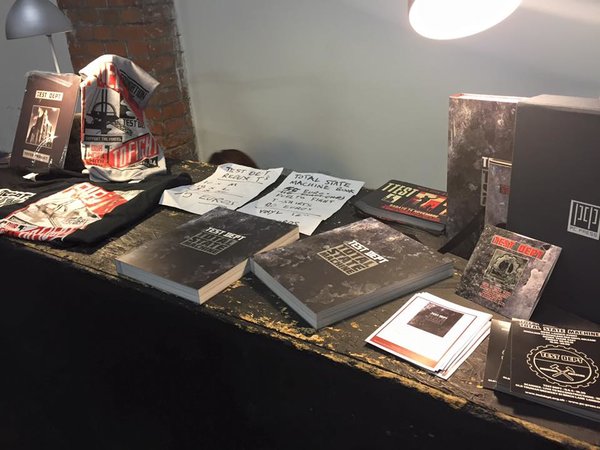 How did a group of disaffected young people come to pose a serious threat to the symbolic order of the Thatcherite state?
Test Dept were on the front line of struggles which are still playing out in the present day; raising questions, galvanising resistance and unnerving the titanic forces unleashed by the Thatcherite doctrine that still dominates the political mainstream. Their music was a full-frontal assault on the senses that also contained moments of reflection, beauty and echoes of post-industrial decay.
Until now the full history of British music, culture and politics in the 1980s and 1990s had not been told – a chapter has been missing. Total State Machine is this missing chapter. More than just a history of a group, it captures a wider history of those troubled times.
Printed on over 400 pages of high quality art paper, the book contains reflections and essays from founder members Paul Jamrozy, Graham Cunnington and Angus Farquhar, plus Stephen Mallinder (Wrangler/Cabaret Voltaire), Robin Rimbaud (Scanner), Marek Kohn, Malcolm Poynter, Ivan Novak (Laibach), Alan Sutcliffe (Kent Miners) and a host of other contributors who were involved or affected in some way by the work of Test Dept, with an introduction by Alexei Monroe and Peter Webb. As well as manifestos, lyrics, excerpts from tour diaries, new interviews and many previously unknown stories and documentation, the book also contains original artwork, photography and documentary images of the group, illustrating the spectacular scale and impact of their work.
'Total State Machine' is published by PC-Press and is a unique historical document and visual representation of Test Dept.
The Paperback version comes with an archive Test Dept A2 poster.
For a limited period – until the 1st June –  it will be £40 after that it will be £45.
Available here:
http://www.pc-press.co.uk/shop/