19 March, 2016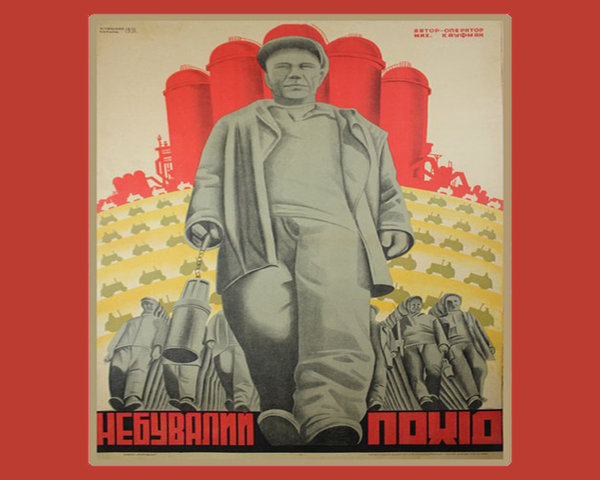 "The proletariat, having become master of one sixth of the globe, frees the rural working people from the kulak oppression…THE PROLETARIAT…Engages the peasantry in a joint campaign for Socialism. This is what the film speaks about."
Test Dept return to Newcastle with the world premiere of a newly commissioned soundtrack to the recently rediscovered and restored Soviet silent film masterpiece An Unprecedented Campaign by Mikhail Kaufman.
Kaufman was the brother of Dziga Vertov and cameraman behind The Man With a Movie Camera. An Unprecedented Campaign was created during the rapid industrialisation and collectivisation of Stalin's Five-Year Plan. Kaufman countered the poverty of the villages with the geometrical rhythm of mechanised factories; militarisation is shown as the next step of the 'unprecedented campaign'.
This new commission further engages Test Dept in a dialogue around the artistic avant-garde of the first decade of the Russian revolution.
Vertov's sound film Enthusiasm (Symphony of the Donbas) was an early influence on their use of found sound in creating film soundtrack and music composition.
Commissioned by AV Festival, British Council and Oleksandr Dovzhenko National Centre.
Sat 19 March, 9pm (71min + Q&A)
Tyneside Cinema
10 –12 Pilgrim Street
Newcastle NE1 6QG
Box Office 0191 227 5500
http://www.avfestival.co.uk/programme/2016/events-exhibitions/test-dept-...
https://www.tynesidecinema.co.uk/whats-on/films/view/av-festival-2016-te...
Part of Levels of Democracy: Ukraine Film Weekend. Curated by AV Festival 2016:
Meanwhile, what about Socialism?
George Orwell's book The Road to Wigan Pier is the thematic framework for AV Festival 2016–2018.
In 1936, Orwell spent two months living in the industrial North observing working-class life amidst growing social injustice, poverty and unemployment.
The book is an analysis of English socialism, concluding that the basis of democratic socialism is equality and fairness.
Mirroring the book's structure, AV Festival 2016 is Part One, with artists situating themselves in relation to historic political struggle.
The Festival film programme presents 48 film screenings, special events and discussions in Newcastle.
See the full AV Festival program at: www.avfestival.co.uk